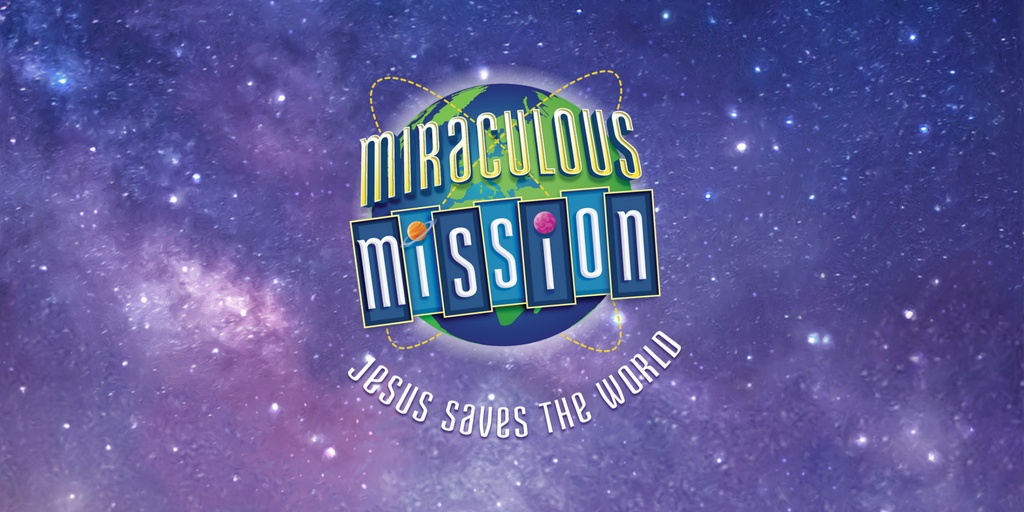 It's VBS time!
St. Peter and Zion are excited to host Vacation Bible School this summer June 24 to 28 from 8:30-11:30 AM at Zion Lutheran Church. All children age three (as of 8/1/18) through the fifth grade (as of current year) are welcome to attend.
This year's VBS is Miraculous Mission: Jesus Saves the World! In this intergalactic adventure, kids will play games, make crafts, sing songs, and—most importantly of all—learn about Jesus, who saves us and the world.
The purpose of VBS is to nurture faith in our children, outreach to the surrounding communities, and create opportunities to share the gospel. VBS creates lasting memories that help lock Bible truths in a child's heart and mind for a lifetime.
5 Ways Parents Can Support VBS
Parents can support VBS and its purpose in a few key ways:
1. Share about VBS on social media.
Talk about VBS on social media before, during, and after June 24-28 so that fellow parents know it's happening. Invite friends to join your kids, and offer to drive if you can. Most importantly, talk about the purpose and mission of VBS so more people know why VBS is important!
Follow the St. Peter/Zion Lutheran 2019 VBS event on Facebook for updates, and share the posts about it.
2. Be a driver
Invite and offer to drive neighborhood kids and kids' friends to VBS, especially if their parents have other kids or busier schedules. Make it as easy as possible for kids to get to VBS! And while you're in the car, you can pop in the VBS CD and sing along with all the songs.
Can't drive every day? Coordinate a carpool with other parents so that the kids get to VBS each morning.
3. Sing the VBS songs together
Each family will receive a CD with the VBS songs and Bible verses. Listen and sing along! Practicing the songs with your kids helps them memorize them quicker—and the songs are just plain fun.
You can also find many of the songs on YouTube, complete with captions and kids demonstrating the actions!
4. Ask your kids what they learned at VBS.
On your drive home or at a meal, ask your kids how VBS was and what they learned. By retelling the Bible story or reciting the key Bible verse, kids learn and memorize the day's VBS lessons better. Plus, it gives them a chance to practice sharing the gospel with you—and you can encourage them to tell others about what they learned at VBS, too.
5. Talk about the mission project.
Talk about the VBS mission project, Sharing God's Miraculous Mission. The offerings kids bring to VBS each day will go toward Concordia Gospel Outreach's mission to buy the book "The Work of His Hands for Kids" for children in the United States who need to hear the good news about Jesus. It's a Bible-based book about God's love for everyone, and English and Spanish versions are available. Each book costs $2.50.
Thanks to VBS director Kathy Gloystein for sharing these ways parents can support VBS with us!